Choosing the right clothing for your family portrait is important to the overall success of the pictures. Most family portraits hang on your walls for years, so you want them to be perfect.
No matter the occasion for the family portrait, choosing the outfits can be a challenge. But, it doesn't have to be. We have been working with families for years and years and get asked the question of what to wear often. So, here are a few friendly tips that we suggest to our clients on what to wear for family portrait sessions.
Occasion & Setting
When selecting clothing for your family portraits, take the occasion into consideration. For example, will the picture revolve around the holidays, always a favorite. Or, will you be having the portrait done on a family vacation? Coordinating your clothing to the seasons or occasion will help you choose the clothing best suited for your family portrait. Start by picking a couple of colors that match the type of setting you have chosen.
If your portrait session is around Christmas, think of colors that say "Merry Christmas." Reds and greens are always popular and stand out in pictures. Mix it up with flannel or plaids! Winter is perfect for adding layers and textures to add more interest and clothing options. For example, a suit jacket can get removed for pictures that will showcase the shirt under it. You can do the same with sweaters and cardigans.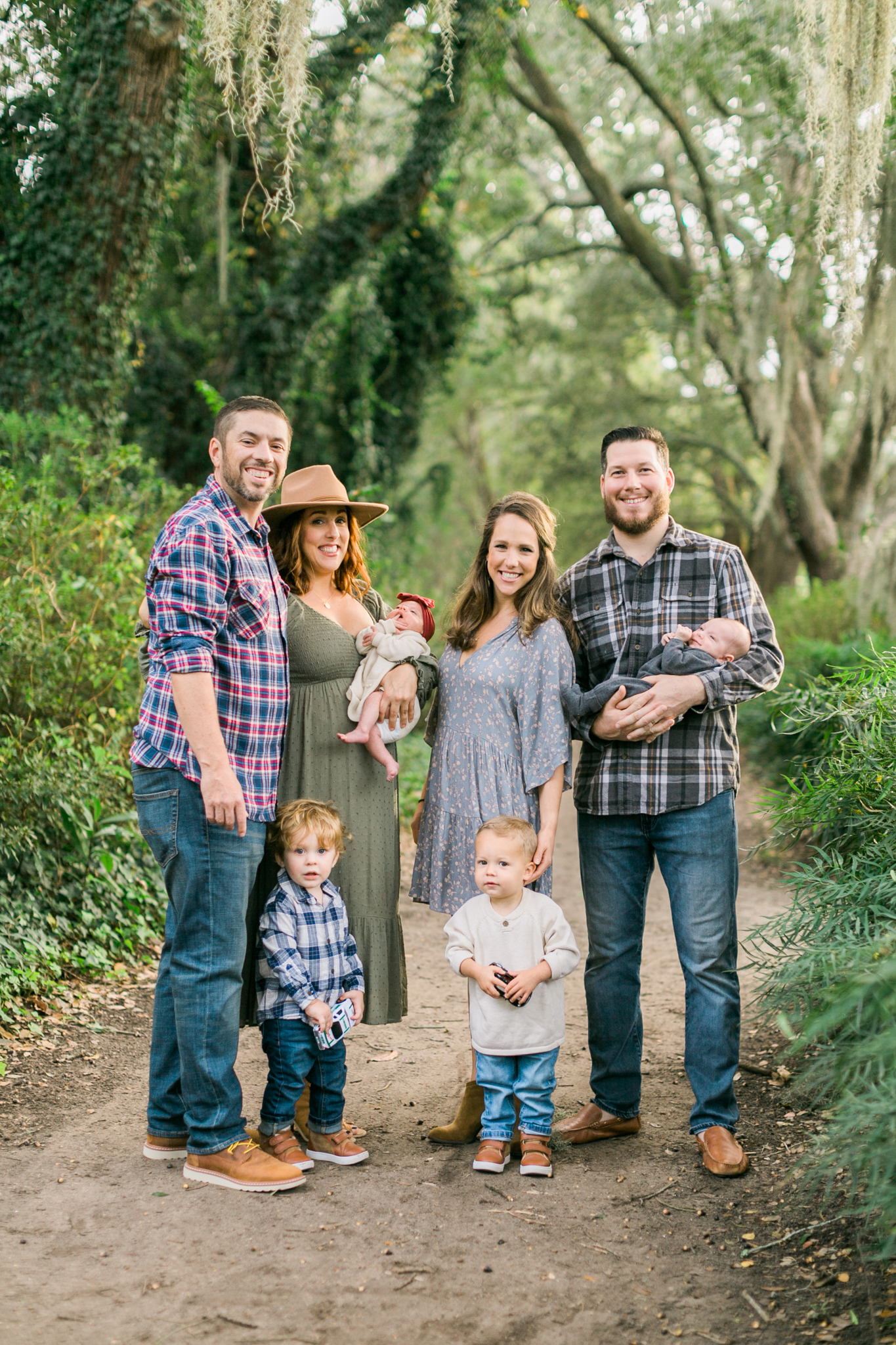 Or, how about that annual family vacation at the beach? Another popular setting for a family portrait session. You will want clothing suitable for the beach, maybe shorts and short sleeve button-downs, a summery dress. Keep the clothing simple and light – think of a cooler color pallet like greens, blues, corals, etc., with a pop of color. Steer clear of all-white clothing.
The changing leaves and softer natural light make fall an excellent backdrop for great family photos. In fact, it is one of the most popular settings. Think about warmer earth tones for colors. You will want to plan for different layers, especially if your photo session will take place in cooler weather which is rare in Charleston but it does happen. You want your photos to look natural, and it's hard to do that if you are freezing or burning up.
So, once you have your setting and a couple of colors decided on, it's time to consider what to wear.
Choosing Outfits
Choosing outfits doesn't have to be hard or overwhelming. Having a couple of colors selected for your pictures allows more options for your family. Also, try to pick out fun clothes that will show off your family's personalities. And remember, not everyone has to match exactly unless that is your family tradition. It adds more interest when choosing coordinating outfits that tie your chosen colors together. Matching outfits tend to make the photo look sterile.
You will want to avoid wearing all black and all-white clothing; they don't photograph well as stand-alone colors. In addition, these colors can cause you to lose details in the photo.
You will want to avoid any clothing with large graphics or text, even if it is a favorite shirt. It can be distracting in the photo. Instead, opt for a fitted – t-shirt. Plain tees are always great options; you can dress them up with scarves, belts, sweaters, etc.
Keep your photos interesting by adding different textures, patterns, and accessories. But, of course, you will want to keep your textures the same. For example, you don't want everyone in flannel and one person wearing a summer dress.
And speaking of accessories, don't forget about your feet. If your photoshoot will have full body shots, make sure that you have picked out shoes that match your outfits.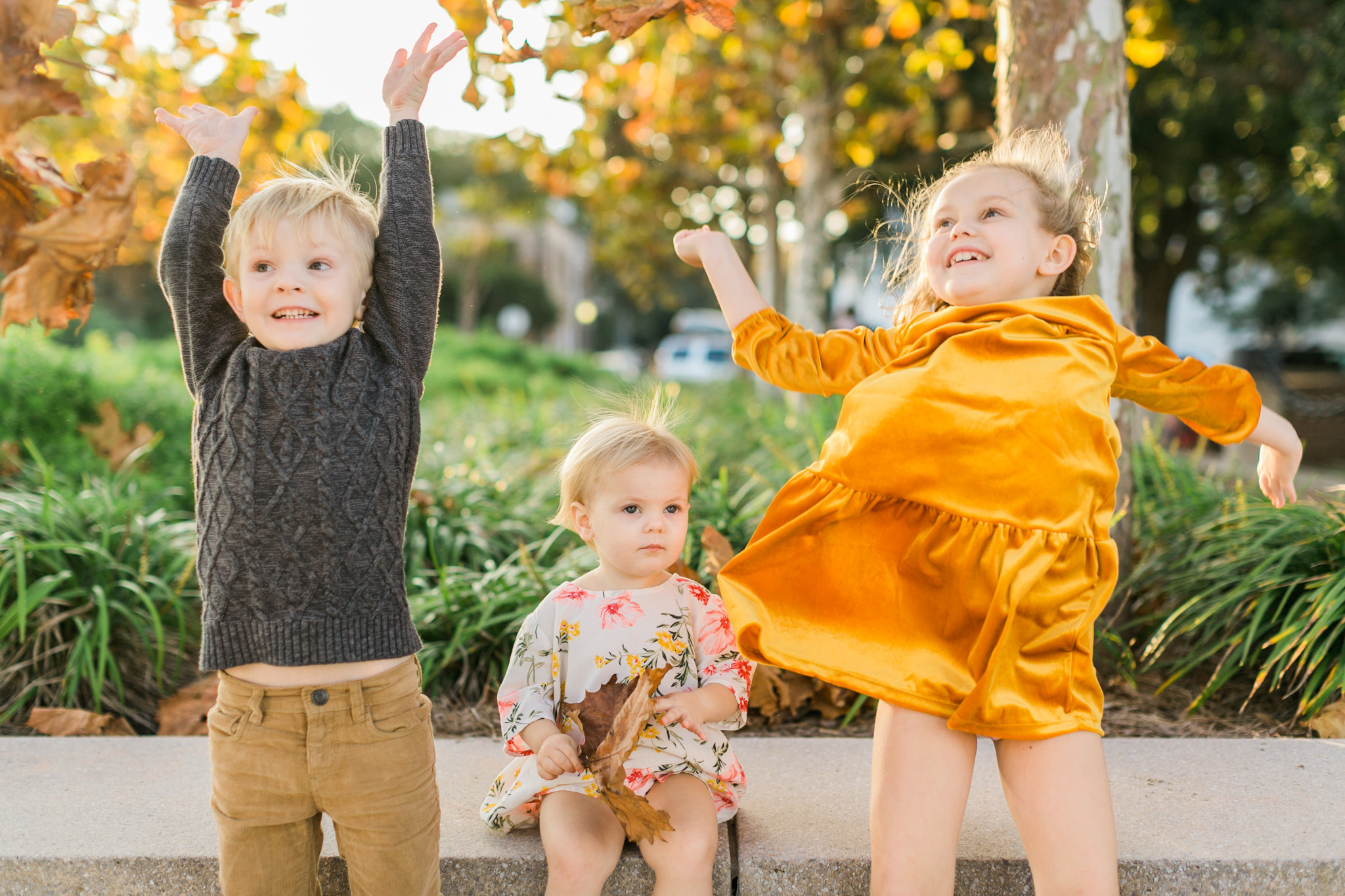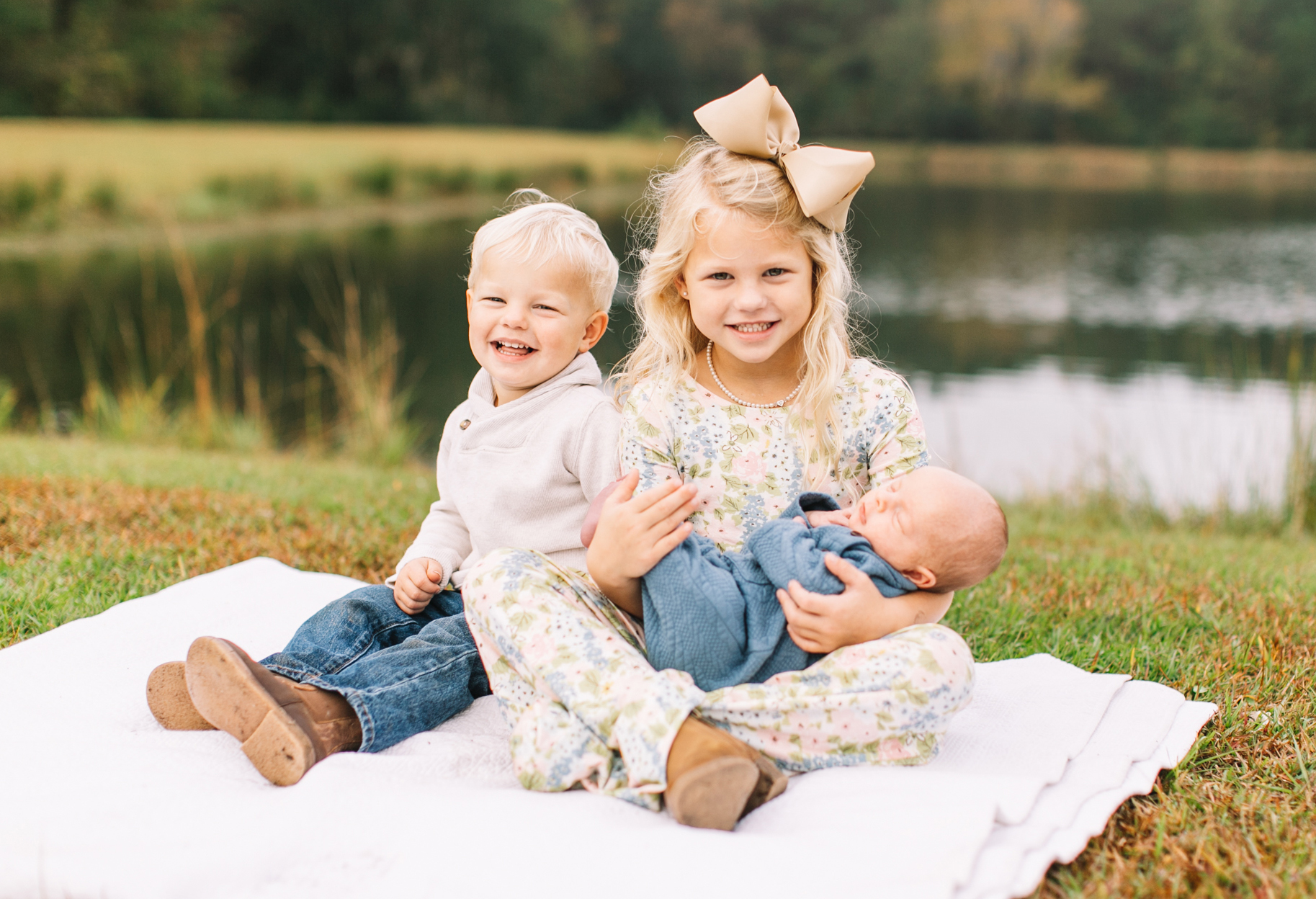 Getting Inspiration
You can check out your local department stores, look at the clothing they have displayed on their mannequins. Professional stylists coordinate these displays and significant resources to get some great ideas. Some department stores even have clothing collections built just for family pictures. It's a great option to select your outfit or just get some inspiration.
Check out Pinterest. You will find unlimited amounts of color combinations and outfit ideas. Choose the ones that would showcase your family's personality and build your wardrobe from there.
Your Family Portraits
When it comes to your family portraits, remember to keep it simple and keep it fun. You want your family to be able to be themselves in the pictures. You don't want stiff, expressionless photos. You want these pictures to hang on the wall, to remember special times, people, and places.